How we started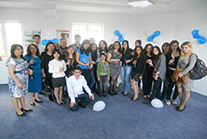 Education is what lies at the basis of the success of many people. We set off with a very strong foundation of background education. The idea of opening a language school had emerged well before the actual opening date. "Shabunts Sisters" Language School took off on its glorious flight on April 22, 2012 with a grand opening. The school was founded as a family business, by two sisters who felt the need of a change in the quality of education provided in Armenia.
Mission
Our greatest goal is that of making high quality education available to the general public. The mission of the school is to provide a platform for educational development and to assist those who truly acknowledge the value of an educated society. Our mission has always been to teach people of all ages for helping them achieve their career goals. The main idea behind this initiative has been to let the public realize what power education entails. With the help of devoted staff, we aim at promoting literacy and knowledgeability in society. So far we have helped to change the lives of many students who have achieved success and have proved the notion that education turns mirrors into windows, i.e. with a good educational background the world becomes more accessible and challenges are easier overcome.

We also aim at motivating students to not only study languages, but also to inspire future generations by serving a model for them. Our mission is not to open doors for our students, but rather to give them the keys to those doors they have always strived to open. We do our best at making it obvious that determination, strong will and achievement-orientation are the greatest qualities that guarantee advancement.
Our Team

Gayane Shabunts
Executive Director
Gayane Shabunts is one of the three co-founders of "Shabunts Sisters" Language School. She earned her BA in Translation and Linguistics at Yerevan State Linguistic University after V. Brusov. Later she got her MA in Teaching English as a Foreign Language (TEFL) at American University of Armenia. During her studies she was granted Gagan and Akian Scholarships for her high academic standing.
After graduation she has been recognized as one of the outstanding graduates of American University of Armenia. In 2012 she, with her mother and sister founded "Shabunts Sisters" Langauge School. In the same year she was recognized as the Silver Medal winner at Blogathon 2012, which involved hundreds of participants from dozens of countries. She has had active participation in various seminars and conferences.

Hripsime Shabunts
Deputy Director
Hripsime Shabunts is a co-founder of "Shabunts Sisters" Language School. She earned her BA in Pedagogy and Linguistics at Yerevan State Linguistic University after V. Brusov with an honor's diploma. She continued her education in American University of Armenia (AUA) and was awarded an MA in TEFL with a successful defense of her thesis paper entitled as "Improving vocabulary through Authentic
reading materials". For her high academic standing and great devotion to studies she was awarded Gagan and Akian Scholarships. She has been recognized as one of the highly successful graduates of AUA. After graduation she joined her sister and mother to found "Shabunts Sisters" LLC. Currently, she is doing her PhD in Pedagogy and Linguistics. She is the deputy director at "Shabunts Sisters" Language School and is actively involved in teaching. She is highly interested in academic and professional advancement; she has been attending various seminars.